Build brand loyalty and recognition as a PacVet 2023 sponsor!
In addition to the powerful brand association that you enjoy as a sponsor, the conference is an ideal value to show the value of your products and services to veterinary professionals.
Sponsorship Commitment Deadline: November 30, 2022
Payment Deadline: January 31, 2023

Become a Premier Sponsor

Premier sponsorship level is determined by the combination of your exhibitor booth(s) and sponsored item(s) totals.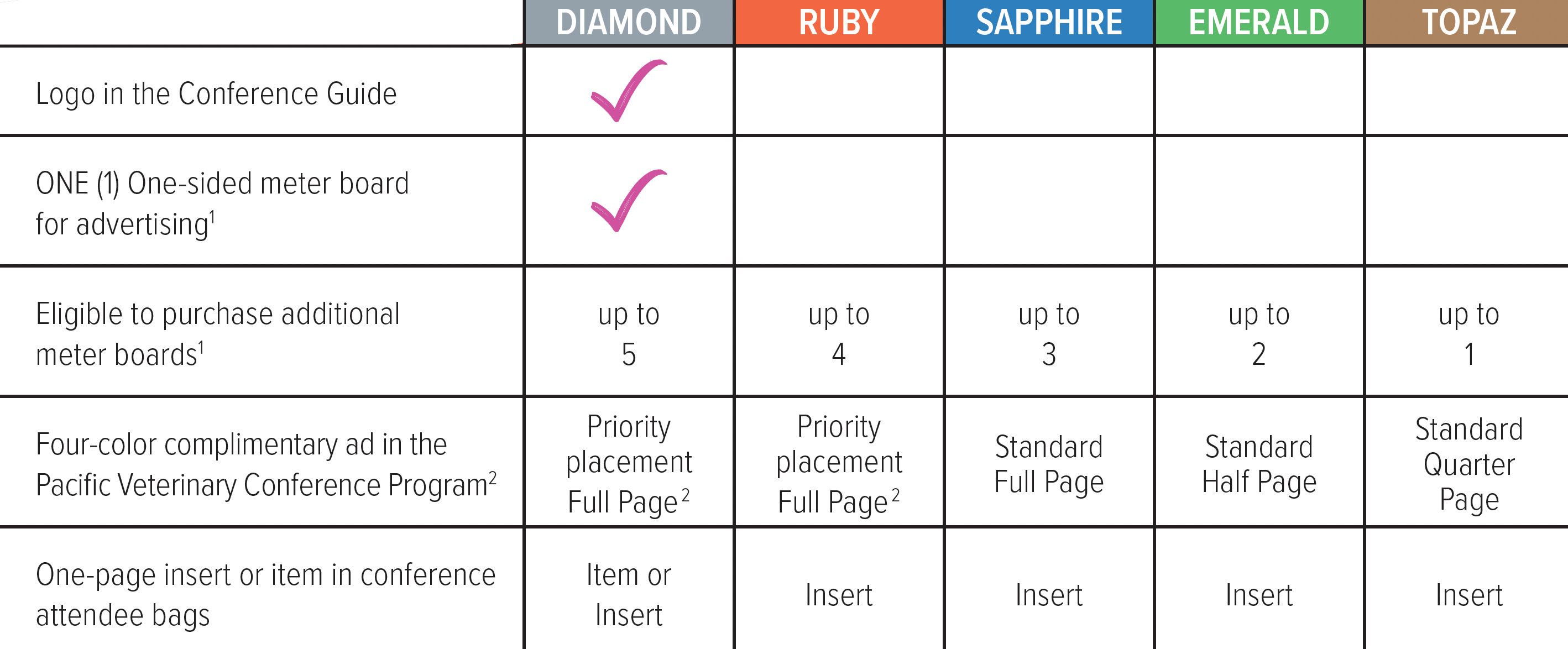 Diamond ($50,000 and up)
Ruby ($35,000 – $49,999)
Sapphire ($20,000 – $34,999)
Emerald ($10,000 – $19,999)
Topaz ($5,000 – $9,999)
Sponsorship Recognition in/on:
Issues of the California Veterinarian magazine
Quarter-page advertisement in the May/June issue of the California Veterinarian magazine.
The printed Pacific Veterinary Conference Program
The printed Pacific Veterinary Conference Guide
The Pacific Veterinary Conference mobile app
The Pacific Veterinary Conference website with a link to your company's website
All company representatives' badges at the conference
Signage for all sponsored events
*Companies may also consider in-kind support, such as providing equipment and supplies for labs. Recognition will be present on lab signage and in the Conference Program (if arrangement is made prior to publication).
*Sponsors may not bring their own meter boards. Meter boards must be ordered through and approved by conference management. Sponsors who purchase additional meter boards may not use their expenditure on meter boards as part of their total contribution to the conference.
*Must commit to being a sponsor and submit program ad by November 30, 2022. Dependent on availability. First paid = first choice.
Contact Erica Ferrier for more information by email at serck@cvma.net or by phone at 800.655.2862.