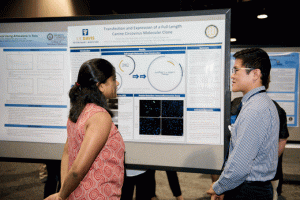 Meet your future colleagues and interact with students from UC Davis and Western University as they explain, discuss, and answer questions about their research. The posters will be on display in the Vet Expo throughout the conference. 
Students will be available to discuss their theses during the lunch breaks on Friday, June 29 and Saturday, June 30. They will also be presenting in the Vet Expo during the afternoon break on Friday from 2:50 PM–3:40 PM.
Friday, June 29th, 12:20 pm – 2:00 pm and 3:35 pm -4:30 pm
Saturday, June 30th, 12:20 pm – 2:00 pm and 2:50 pm – 3:40 pm
UC Davis Student Poster Presentations in the Vet Expo:
Alice Wang, Class of 2020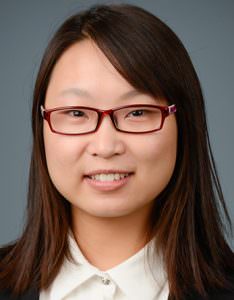 Ms. Wang is currently a second-year veterinary student at UC Davis, School of Veterinary Medicine, class of 2020. She did a five-year undergraduate veterinary medical study in China and a one-year pre-veterinary study at Kansas State University before attending veterinary school. She is interested in small animal medicine and comparative medicine.
Evaluation of Biocompatibility of a Novel Sustained Ocular Drug Delivery System in Rhesus Macaques Using Optical Coherence Tomography Imaging
Biodegradable microspheres suspended within thermoresponsive hydrogel designed by our collaborator, Dr. Kang-Mieler's team at Illinois Institute of Technology, can be used as an ocular drug delivery system (DDS). The DDS can achieve controlled and extended release  of anti-vascular endothelial growth factor (anti-VEGF), with potential to reduce intravitreal injection frequency for patients with wet form of age-related macular degeneration (AMD). Excellent biocompatibility and pharmacokinetic properties of this DDS have been demonstrated in rodent AMD models. In this project, we further evaluated the safety of this DDS on primate eyes by studying the anatomic and function changes of the retina of three rhesus macaques after six months of intravitreal injections using spectral domain-optical coherence tomography (SD-OCT) and electroretinogram (ERG).
Eric Velazquez, Class of 2020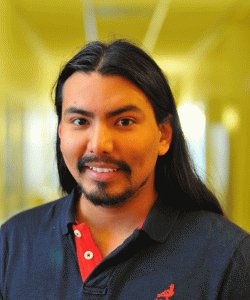 Mr. Velazquez is pursuing a combined DVM/Ph.D. program at UC Davis and will graduate in 2020. His project emphasizes how gut microbiota affects susceptibility to infection in laboratory mice. Mr. Velazquez's career goal is to pursue a residency in anatomic pathology with a focus on laboratory animals so he can become a research veterinarian with expertise in developing in vivo models of human diseases.
Indigenous Enterobacteriaceae Underlie Variation in Susceptibility to Infection 
The microbiome represents an important source of variation in disease outcomes. Understanding how balanced gut-associated communities influence host-pathogen interactions could advance prophylaxis and improve reproducibility of mammalian models. However, little is known about specific microbial composition changes that cause phenotypic differences. Here we show that genetically similar mice, obtained from four vendors, exhibit heterogeneous responses during Salmonella. Fecal transplantation into germ-free mice replicates hierarchical susceptibility, revealing variability is due to distinct commensals. Co-housing of susceptible with resistance hosts partially transfers protective capacity, suggesting minority species within the gut flora are responsible. Consistent with our hypothesis, escalating colonization resistance is attributed to diverse resident Enterobacteriaceae, a low abundance taxon not readily detected by amplicon sequencing. These findings illustrate how keystone facultative anaerobes can affect experimental results and alter infection risk among healthy individuals.
Connor Long, Class of 2020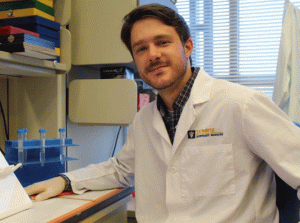 Mr. Long is a DVM candidate from the class of 2020 at UC Davis. His work establishing canine placenta-derived mesenchymal stem cell lines for the treatment of neurological disorders was recently published in Cytometry Part A. Cell lines that he isolated and characterized are currently being tested in two veterinary clinical trials at UC Davis. Preliminary results in English Bulldogs affected with spina bifida have been promising and reported on in the popular media.
Placental Mesenchymal Stromal Cells for the Treatment of Canine Neurological Disorders
Spinal cord injury (SCI) is a devastating disorder that affects humans and their canine companions. The prognosis of SCI depends on the severity of the injury and can include motor and sensory deficits including devastating paraplegia and quadriplegia. Placental mesenchymal stromal cells (PMSCs) have been shown to improve wound healing and possess neuroprotective and immunomodulatory capabilities. In this study, we developed a protocol to isolate PMSCs from canine placentas and characterized their therapeutic potential in vitro to determine their potential as a treatment option for neurological disorders in dogs. PMSCs meet the criteria to be defined as mesenchymal stromal cells and represent a potential regenerative therapy option for neurological disorders in dogs with their robust growth in collagen hydrogel, secretion of potent paracrine factors, and neuroproliferative and neuroprotective capabilities.