Visit | Explore | Connect
At the 2020 Pacific Veterinary Conference's two-day Vet Expo, you can find products and/or services that can add value to your veterinary practice. Visit with more than 128 leading companies, network with professionals, take advantage of exhibitor show specials, raffle, fun events, and more! 
The Vet Expo will have leading exhibitors in: 
| | |
| --- | --- |
| Medical equipment | Radiation technology |
| Medical supplies | Surgical instruments |
| Pharmaceuticals/Biologicals | Insurance services |
| Practice brokers | Legal services |
| Books and publications | Financial services and much more! |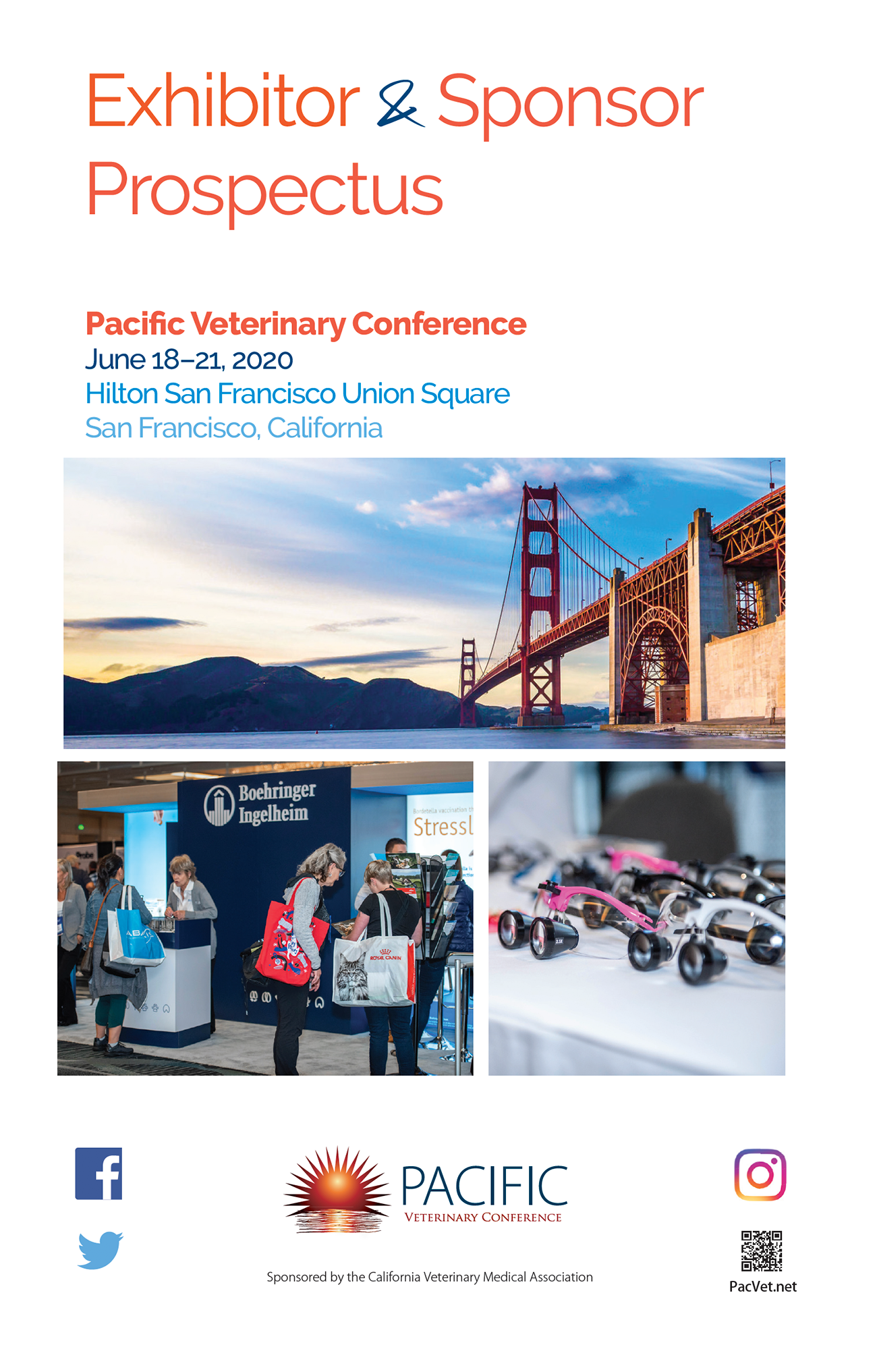 Why Exhibit  at PacVet 2020
in San Francisco?
Vast Exposure
PacVet attracts attendees from all 50 states and 19 countries.
Show your products and/or services to key audiences with a two-day Vet Expo.
Display your products and services to more than 1,700 veterinary professionals.
Exceptional Traffic
95 percent of conference attendees visit the Vet Expo.
Numerous crowd-drawing raffle drawings, meals, and snack breaks are hosted in the Vet Expo.
Exhibitors are recognized on the conference website, in the conference program, on the conference mobile app, and in marketing materials.
Complimentary lunch provided on the trade show floor to all attendees and exhibitors.
Tremendous Reach
87 percent of conference attendees would recommend PacVet to their colleagues.
PacVet attracts veterinary professionals from across the United States, Canada, and other countries.
The 2020 PacVet Expo is SOLD OUT! But you can get on a waitlist.
The Pacific Veterinary Conference Vet Expo is SOLD OUT! We invite you to download and fill out the Exhibitor Contract with payment in full to be placed on the waitlist. PacVet will not process your payment until a booth becomes available and you accept placement on the expo floor. Please send completed forms to dyee@cvma.net.
Download Prospectus
Vet Expo Schedule 
The Vet Expo will be open Friday, June 19 from 9:30 AM – 6:15 PM and Saturday, June 20 from 9:30 AM – 3:30 PM.
2020 Conference Venue 
The 2020 Pacific Veterinary Conference will be held at the Hilton San Francisco Union Square Hotel. 
The hotel is located within the heart of San Francisco's restaurant, theater, and shopping district with multiple nearby world-famous attractions and entertainment like Fisherman's Wharf, Golden Gate Park, historic cable cars, Coit Tower, Oracle Park, Chinatown, and much more!
Hilton San Francisco Union Square Hotel 
333 O'Farrell St, San Francisco, CA 94102
View On Map »
Parking
Overnight self-parking is available for $45.00 + tax per night.
Overnight valet parking is available for $76.38 per night. 
*Current rates are subject to change.